ASOME - Bluetooth audio receiver


A Project in JOONGHO CHOI STUDIO.

Client - Vision scape
Project director - Joongho Choi
Product Design - Hyunsoo Choi


ASOME, a collaboration project between Visionscape and Joongho Choi studio, is a bluetooth earphone with style. It was born to deliver AWESOME music experience to users.

Simply plug in your earphones to ASOME to listen to music wireless. Use various accessories and coordinate your fashion with ASOME.

ASOME is especially convenient to younger generations who often engage in dynamic activities.

Wireless enablers in market are designed to look fancy or for leisure activities.
ASOME was designed as a casual fashion accessory, so you can bring music into daily life.




ASOME plans to deliver more various earphones, speakers, and accessories for your style.




The thought of ASOME begins with a concept that how can ubiquitous Bluetooth,appearance of user and life style are in harmony. ASOME's design forms a sense of connectivity with user and environment. It is only weighs 17.9*18*45mm and so light that user can carry it everywhere. The product comes with a neck strap, hook, and clip to help user have the best look in any outfit.
User can easily listen to the music with the device and have the look they want. ASOME redefines the term "Bluetooth earphone."

ASOME's Bluetooth engine, earphone and accessory part is separated to be used in many ways. The device's metal hook can be combined to a variety of accessories. User can customize the accessory based on his or her taste.




Wearing ASOME with neck strap is the most natural way to wear with ASOME.




Use a holder and hook ASOME anywhere from your waist to bag.
With a holder, ASOME is practical, convenient, and stylish.




Using a clip to wear ASOME is the most suitable way to enjoy outdoor sports.
Experience stable grip with a clip.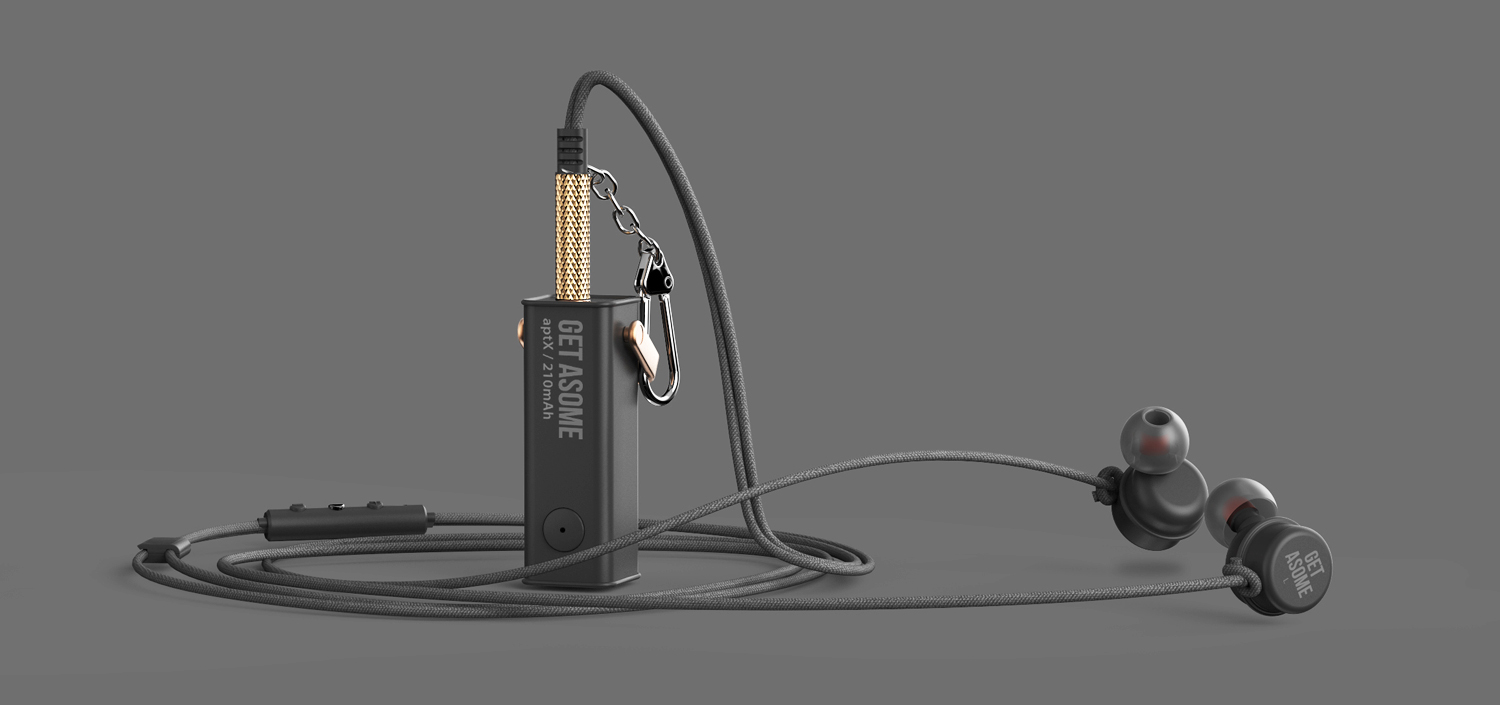 Necklace type earphone




ASOME includes Qualcomm aptX and 210mAh battery, which means high-quality sound and more than 10 hours of battery life.
ASOME also has a multi-paring feature via Bluetooth 4.1, so you can connect ASOME to two devices simultaneously.